Best Playground Markings
Get A FREE Quote For Best Prices
CONTACT US
Specialist Contractor
20+ Years Experience
Guaranteed Best Prices
We are specialist Playground Markings contractors who have installed a huge amount of markings throughout the UK.
With installers based throughout the UK we can offer competitive prices and in November 2020 are able to get costs to you very quickly.
So, whether you are looking to transform an old playground into something new and exciting, or are fitting a brand new playground in your school, park, entertainment area or private property, our friendly and experienced teams will come up with a variety of bespoke options to suit various budgets, needs and requirements.
Contact us today for FREE quotes, examples of our wide range of work and any more information you may require about our service.
We look forward to hearing from you and working with you to create an exciting and unique playground – at a great price!
Gallery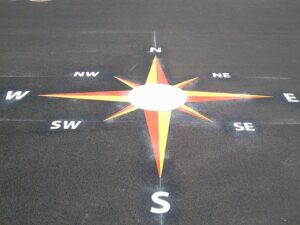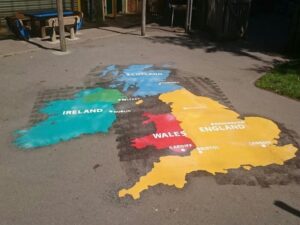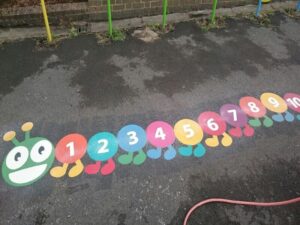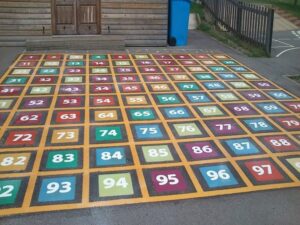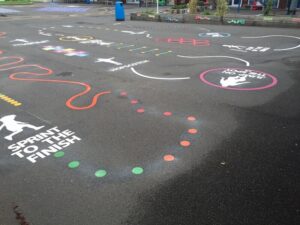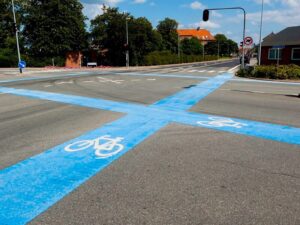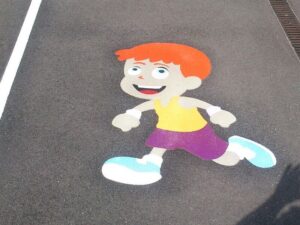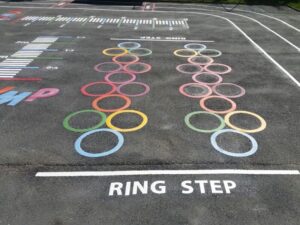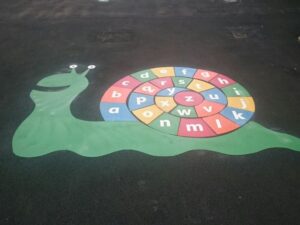 The Benefits of Playground Markings
We often get asked about the benefits of having professional playground markings put down in a play area. At Playground Markings UK we believe that there are many proven benefits to installing professional, colourful and bright playground markings, the main ones are highlighted below but for more information drop us a message:
Improve the physical appearance of a playground – in painting and maintaining your playground it not only looks nicer for pupils and teachers but research shows it is subsequently more likely to be used. Lots of organisations, therefore, have playground markings put down to help enhance the appearance of the area, engage pupils and increase morale.
Educational benefits – there a full range of floor markings which can be chosen from which are proven to have educational benefits for the users. Some educational playground markings contain numbers, the alphabet, maps, words, languages, geography, games, roadways and more! You can even choose markings which are suited to Key Stages 1 and 2, as well as options for older children.
Our teams can also design something totally unique and bespoke should that be of interest to you. Basically not only will the playground look great – and allow the little ones to have a more enjoyable time – but it will also mentally benefit them and wow the OFSTED inspectors!
Health benefits – colourful, bright and engaging playgrounds are more likely to be used for their primary sources of playing; which has proven physical and mental health benefit to pupils. The graphics (which can include games) are brilliant at improving kids' fitness and helping them to discover more physical skills, whilst the colourful patterns are great for encouraging little ones to become more active and healthy in a natural way. This is in addition to allowing them to have a great time outdoor and in the fresh air which also has proven health benefits. For school children and their teachers, obesity is a rising concern and having designated activity facilities which are popular, free and engaging, is an effective way to improve overall health and well-being.
School Playground Flooring Options
There is a wide range of options to consider, both in terms of design (mentioned above) as well as the actual flooring material options used. Therefore, as well as the coloured surface markings and improved physical appearance benefits, you need to also think about the material used to make sure it is suitable for your needs. It is obviously important that the selected flooring options are viable as young children will be running, playing and even falling on them!
Our installers use only a premium plastic material so they give resilience and consistently dependable results – whether the playgrounds are outside in the elements (rain, frost, sun etc) on even inside.
As well as installing and fitting brand new playgrounds we can also transform a worn-out playing area with both vibrant markings (and a more dynamic look for the area) as well as making the area safer with new and safer materials.
Contact us today for more information today.
Playground Markings Designs Available
We offer plenty of colours, shapes, games and graphics for the design of your playground, so they can be suitable for your school or general use. As discussed lots of schools, playgroups and open public areas have heat applied plastic graphics installed to create a decorative and durable facility.
For more information and free quotes drop us a message today and one our suppliers will be in touch.
Sports Markings Installers
As well as installing markings which are for fun and educational, our teams can also install sports markings – such as netball, football, tennis, running tracks, badminton and more.
This means that the play areas can become multi-use games areas and used as part of fitness and sports lessons as well as for games on playtimes and breaks.
For a full breakdown of the type of sports markings we can fit contact us today.
Playground Markings Direct Benefits to Children
There are many direct benefits to having new and exciting playground marking installed. It is proven that with regular activity, youngsters are better equipped to understand lessons within the classroom, therefore it has clear academic benefits.
Also, in experiencing and enjoying games with other pupils, the children will be able to grow in a social and fitness capacity.
In a world of computers, laptops and i-pads, physical play is often neglected. In playing new games and social skills, as play together in a group teaches them important interpersonal skills.
Thermoplastic Graphics Installations
The application procedure of thermoplastic playground markings and plastic surface markings is rather quick and simple, minimising disturbance at schools and daycare centres.
The preformed designs which have been chosen are simply put down on the ground, and heated using a burner to securely melt them to the chosen area. The finished result is a secure and vibrant set of markings which is great for boosting the quality of a play facility. We take pride in having the ability to entertain and educate via diverse outdoor play graphics.
Playground Surface Markings
If you are looking to install a brand new school playground or play area OR are simply looking to transform a tired and jaded one, contact our friendly and helpful teams. We will put together a bespoke plan at a great cost for you to consider.
What Others Say About Our Services
We absolutely love the service provided. Their approach is really friendly but professional. We went out to five different contractors and found Best Playground Markings to be value for money and their service was by far the best. Thank you for your awesome work!!
Aaron O'Connor
Hallows Primary School
We have used Best Playground Markings for many years as they are certainly the best in the UK. The attention to detail and professional setup is what makes this company our go-to company for all our work. I highly recommend the team for the immense work - we highly recommend!!
Ezmae Richards
Top Tier Landscapers
All Areas We Cover in the UK
Here is a list of all the counties we cover in the UK:
Our specialist team can help you supply and install nationwide in the UK.
Enquire today as we can give you the best rates during November 2020 for installations.
Speak to
Get in touch through the form below and
one of our experts will respond